1
instalace akvária
umístěte 60cm akvrárium Cube Garden
opatrně na skříňku Cube Cabinet.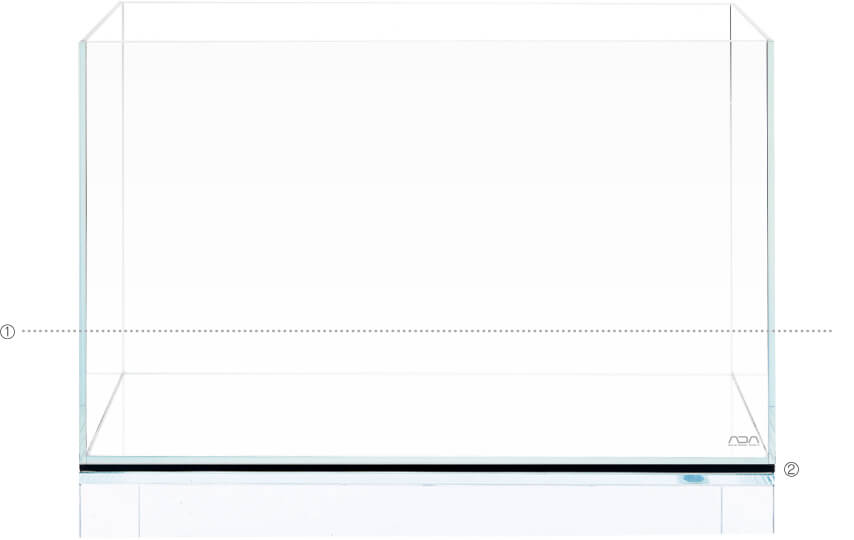 60cm akvárium je ideální rozměr pro Vaše první Přírodní akvárium.
Dbejte na usazení akvária ve vodorovné poloze.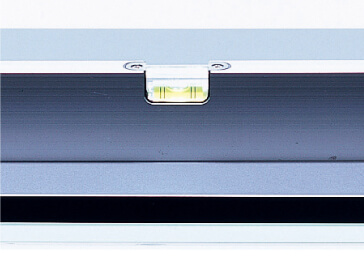 ①Zkontrolujte usazení akvária ve vodorovné poloze
Usaďte skříňku Cube Cabinet na adekvátně rovnou a únosnou podlahu.  Pro kontrolu usazení použijte vodováhu.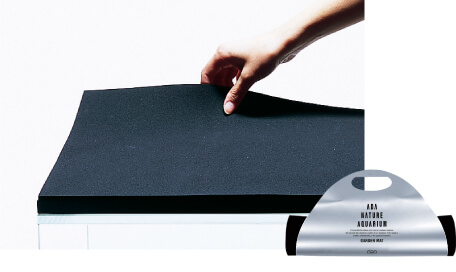 ②Umístěte podložku Garden Mat
Garden Mat je navržena tak, aby absorbovala drobné nerovnosti a vibrace. Použijte vždy pro bezpečný provoz akvária!.
2
ADA SYSTÉM ŽIVÉHO SUBSTRÁTU
SubstrÁt JE MÍSTEM KAM ROSTLINY SPOUŠTÍ SVÉ KOŘENY. NAŠÍ SNAHOU JE VYTVOŘIT ZDRAVÉ PROSTŘEDÍ, KDE KOŘENY ROSTLIN FUNGUJÍ V SYMBIÓZE S BAKTERIEMI A MIKROORGANISMY.
Organické složky v substrátu jsou rozkládány na jednodušší anorganické prvky, které mohou následně rostliny přijímat skrze jejich kořeny. Když mluvíme o "Živém substrátu", máme tím na myslim miliony prospěšných bakterií a mikroorganismů žijících v symbióze s kořeny rostlin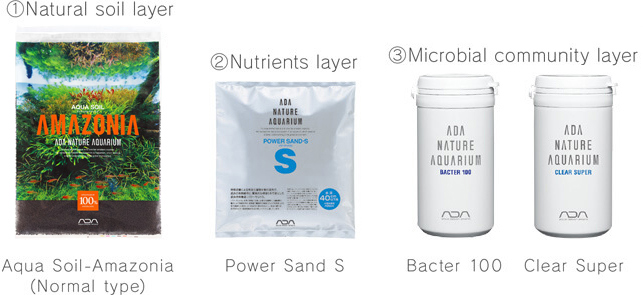 Vytvoření čisté linie substrátu
U předního skla by mla být vrstva substrátu tenká cca 4cm. Postupné vyvýšením substrátu směrem k zadní stěně akvária dodá layoutu dojem větší hloubky.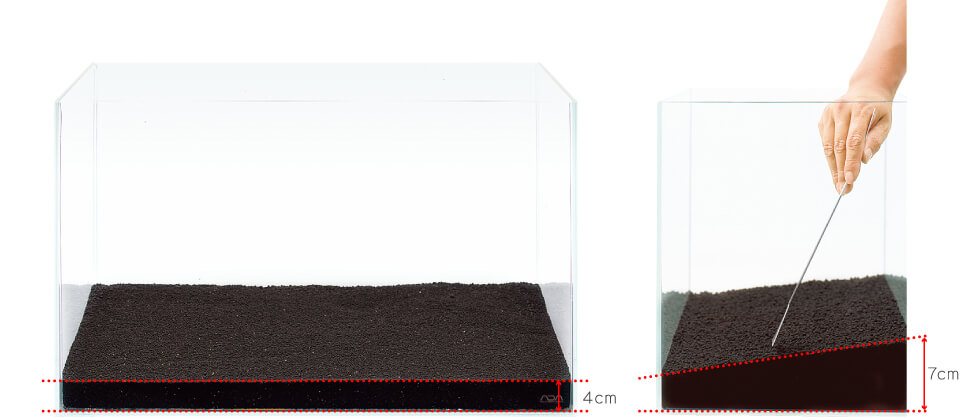 3
vymezení základní formy layoutu
V TOMTO PŘÍPADĚ TVOŘÍ HLAVNÍ PRVEK KOMPOZICE KOŘENY.
K UMÍSTĚNÍ KOŘENŮ DO FINÁLNÍ POZICE PŘISTUPUJEME PO DOBRÉM ZVÁŽENÍ, ZDA JE JEJICH POLOHA VE VŠECH SMĚRECH V ROVNÁZE. PAMATUJTE, ŽE KOŘENY NENÍ TŘEBA ARANŽOVAT DO KOMPLIKOVANÝCH POLOH.


Proces tvorby layoutu Přírodního akvária, který má napodobovat přírodní scenérii v akváriu začíná vždy tvorbou hlavní kompozice. Tuto kompozici nebo také "hardscape" tvoří kořeny a kameny umístěné tak, aby tvořily vyvážený celek. Po tomto kroku přichází na řadu výběr rostlin a jejich výsadba. Na základě Vámi vytvořené kompozice layoutu a vybraných druhů rostlin vzniká vždy jeden jediný originál na světě. Kus Vámi vytvořené přírody!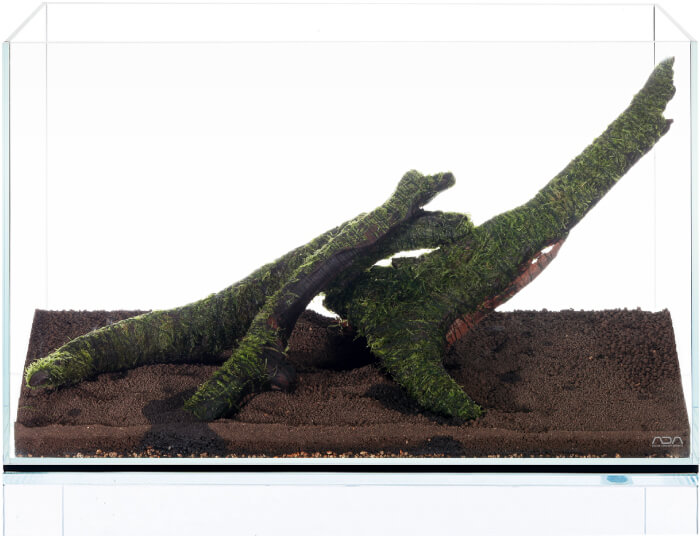 Tři základní kompozice
Toto jsou tři základní vzory kompozic layoutu používaných pro Přírodní akvárium: triangulární, konvexní a  konkávní. Tyto vzory jsou jednoduché na zvládnutí i pro úplné začátečníky.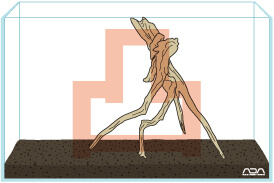 Konvexní kompozice
Asi nejsložitejší z těchto tří vzorů, kvůli těžšímu vybalancování volného objemu pravé a levé strany.
Konkávní kompozice
Velmi oblíbená kompozice pro přírodní akvária. Ujistěte se, že ve středu layoutu vždy zbývá volný prostor.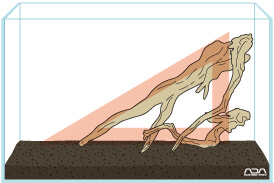 Triangulární kompozice
Kompozice s širším otevřeným prosotrem na pravé či levé straně. Věnujte pozornost diagonálně vedoucímu kořenu, který by měl tvořit přeponu pravoúhlého trojúhelníku.
4
osazování začíná vždy rostlinami v popředí
aby osázení rostlin proběhlo bez potíží, je nutné si vše dopředu dobře promyslet a připravit. doporučujeme použít kvalitních pinzet a dalšího nářadí.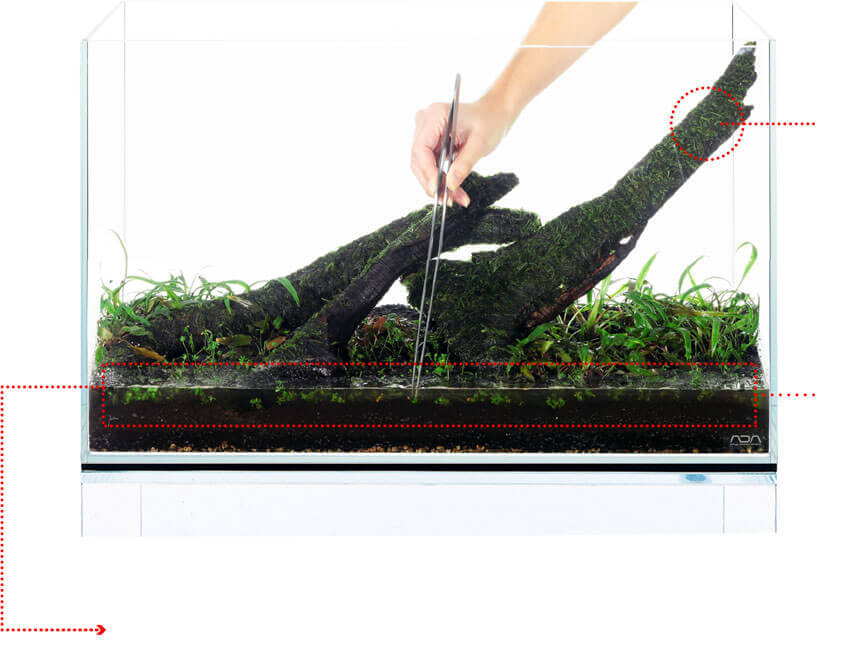 Willow moss
Rostliny do popředí
Sázení rostlin jde snáz v mělké vodě
Celý proces sázení je jednodušší, pokud hladina vody vystoupá lehce nad substrát. Tímto krokem zamezíte vyplavávání sazenic rostlin a zaroveň si zbytečně nebudete máčet ruce ve vodě.
Navázaní mechu na kořeny pro zvýraznění přírodního vzhledu
Mech je jedním z ústředních druhů rostlin pro layouty akvárií využívajících kořeny co by hlavní prvek kompozice. K upevnění mechu na povrch dřeva použijte speciální nit Moss Cotton. Použití Riccia Line doporučujeme k upevnění méně epifytických rostlin jako je například Riccia Fluitans či Willow moss.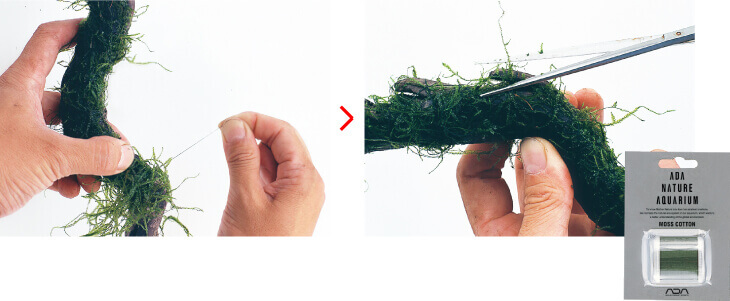 Naneste tenkou vrstvu mechu na povrch kořene a omotejte jej těsně pomocí Moss Cotton.
Zastříhněte přečnívající stélky mecu nůžkami pro čistší vzhled.Moss Cotton
Příprava kobercových rostlin do popředí 
Kobercovým rostlinám nemusíte věnovat tolik péče při přípravách na sázení, ale metody kterými jednotlivé druhy připravujeme jsou dosti rozdílné. Vyberte si druh , který Vám bude vyhovovat  na základě vzhledu, výšky vzrůstu a náročnosti údržby. Před sázením rostliny rozdělte na malé sazeničky, ty pak již snadno zasadíte do substrátu pomocí pinzety.

Odstraňte čedičovou vatu, pomůže Vám v tom krátká pinzeta.
Rozdělte sazenici na několik menších.
Jednotlivé díly ještě rozdělte do menších sazenic po několika rosltinách.
Základní metoda sázení rostlin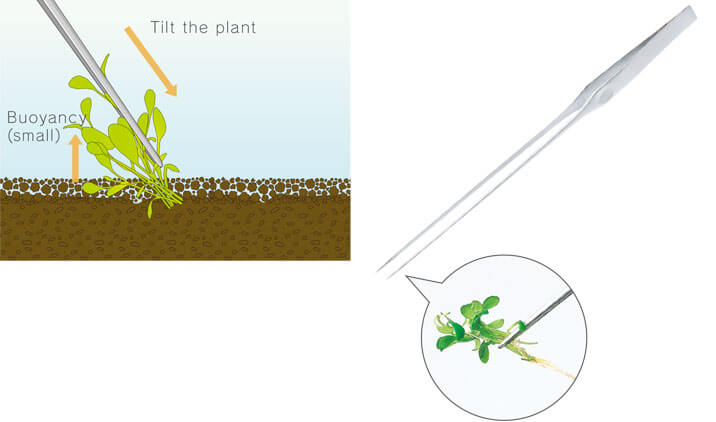 Při sázení nakloňte pinzetu ze šikma a pod úhlem sazenici zasuňte do substrátu. Tímto postupem zamezíte vyplavávání sazenic k hladině.
Pinsettes L
Pinsettes L je jeden z nejdůležitějších nástrojů k sázení rostlin.
Tips of ADA Pinsettes
ADA pinzety byly navrženy pro profesionální použití. Díky velmi přesným hrotům pinzety se zdrsněným povrchem můžete
citlivě uchopit i ty nejjemnější kobercové rostliny. 


Planted aquarium made easy with Wabi-kusa - Foreground Plants
Wabi-Kusa Glossostigma 5Ø
Wabi-Kusa Hemianthus callitrichoides 5Ø
Wabi-Kusa Eleochalis acicularis 5Ø
5
Planting Mid-Ground Plants
A seamless link between foreground & background
plants and concealing of unsightly bottom portion of
stem plants – Consider these for mid-ground planting.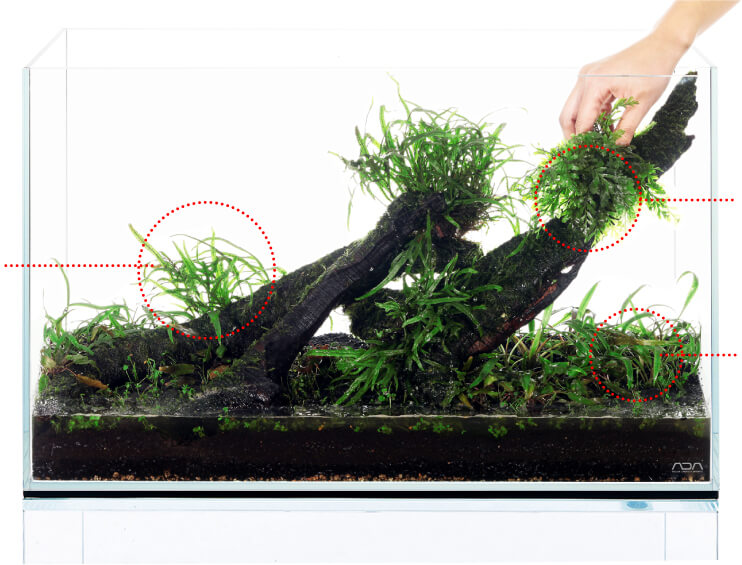 Microsorum sp. (Trident)
Bolbitis heudelotii
Cryptocoryne albida
Cryptocoryne beckettii var. petchii
Cryptocoryne wendtii
(Brown)
Plant Cryptocoryne species in the mid-ground
Mid-ground of aquarium tends to be in the shade of driftwood and others. Choose shade-loving plants such as Cryptocoryne and epiphytic plants.

In many cases, roots protruding from the pot indicate a healthy, strong plant.
Carefully remove the rock wool between the roots with Pinsettes S.
The plant may be divided into around two portions depending on the layout.
Attach epiphytic aquatic plants to
driftwood to create attractive mid-ground.
Epiphytic plants include Microsorum, Bolbitis and Anubias species. 
To prepare these plants, place the roots around a small stone and secure them
with Wood Tight. Damaged leaves should be cut off from the base of the leaf stem.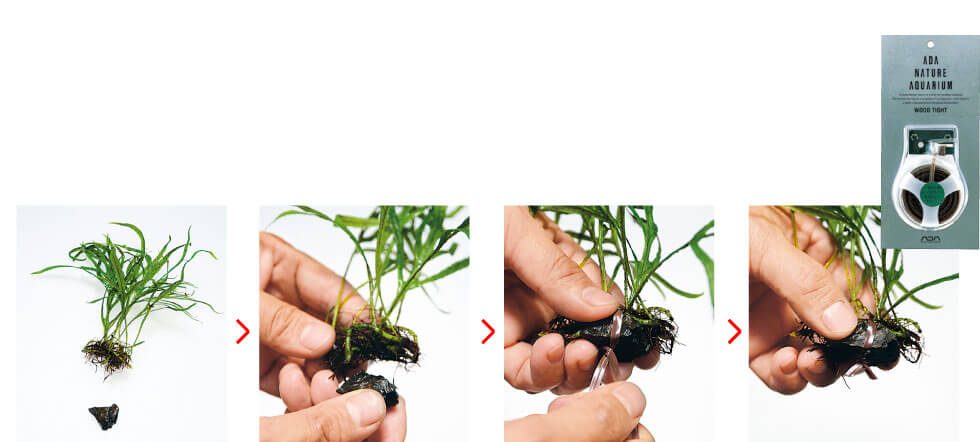 Prepare a stone of such size that it can be hidden under the roots.
Cover the stone with the roots and hold them.
Attach the plant firmly to the stone with Wood Tight.
Twist the Wood Tight to fix and cut off the excessive part.
Wood Tight
6
Lastly, Planting the Background Plants
Choose the background plants mainly
from stem plants and tape-like plants. The balance of
leaf shapes and colors is important.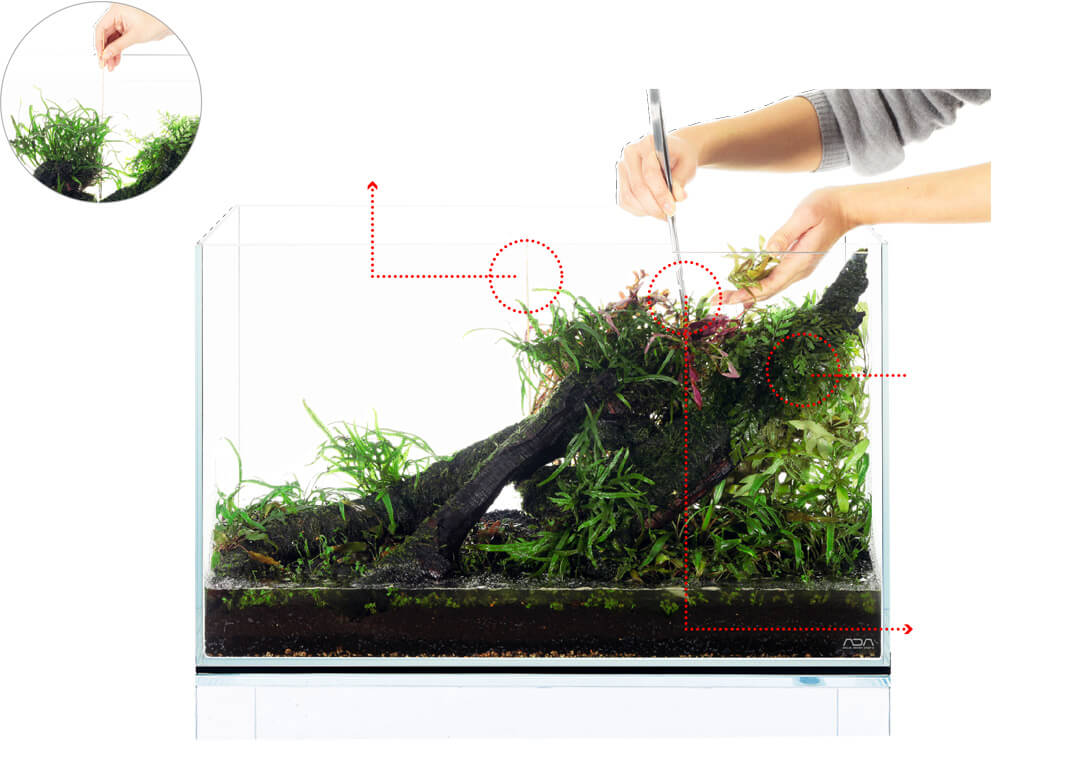 It is recommended to use a bamboo stick to determine the balance in planting for the stem plants in the back ground.
Hygrophila polysperma
Ludwigia arcuata
Rotala macrandra (Green)
Rotala indica
Red aquatic plants such as Rotala indica should basically be planted at the focal point of the layout.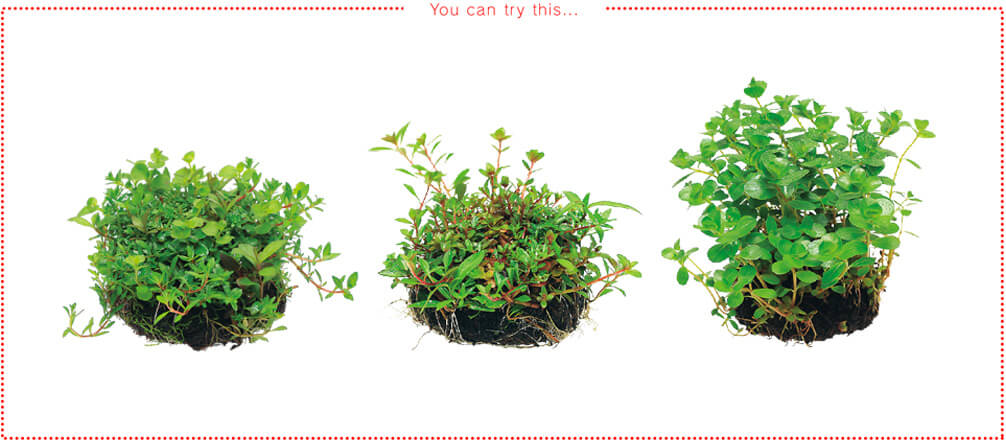 Planted aquarium made easy with Wabi-kusa - Stem Plants
Wabi-kusa Stemmed Plants Mix 9Ø
Wabi-kusa Stemmed Plants Mix Red 9Ø
Wabi-kusa Rotala sp. 'Ceylon'
The height of each stem plant species
should be aligned as much as possible during planting.

Align the level of terminal bud of each stem plant.
Cut the bottom of the stem to the intended height.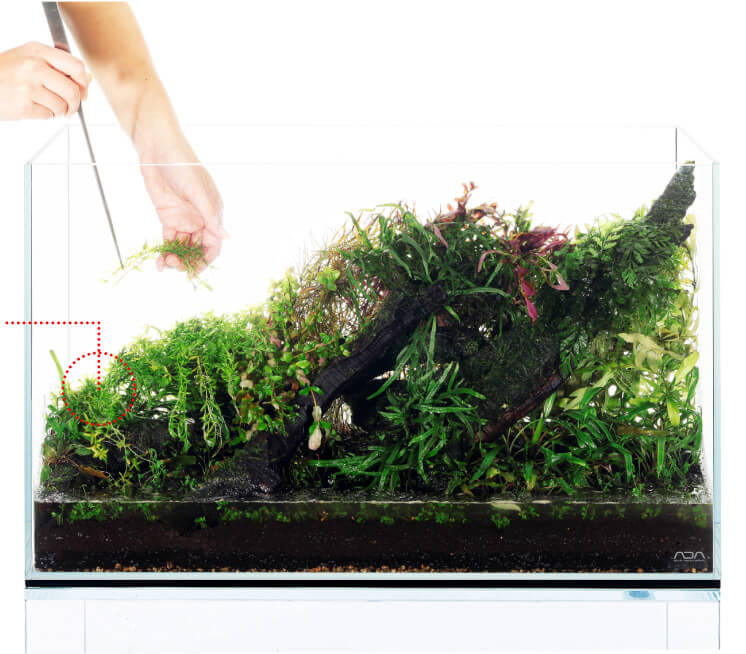 Hemianthus micranthemoideswith
fine narrow leaves should be planted
in a cluster of a few stems.
Hemianthus
micranthemoides
Plant the stem plants while tilting them against the planting direction to achieve a dense and neat finish.

Completion of Planting and Pouring Water
Once the planting is completed, gently pour the water over your hand and then into the aquarium tank. At this time, be careful not to hollow the substrate surface. In the event of cloudy aquarium water, pour fresh water while draining the cloudy water.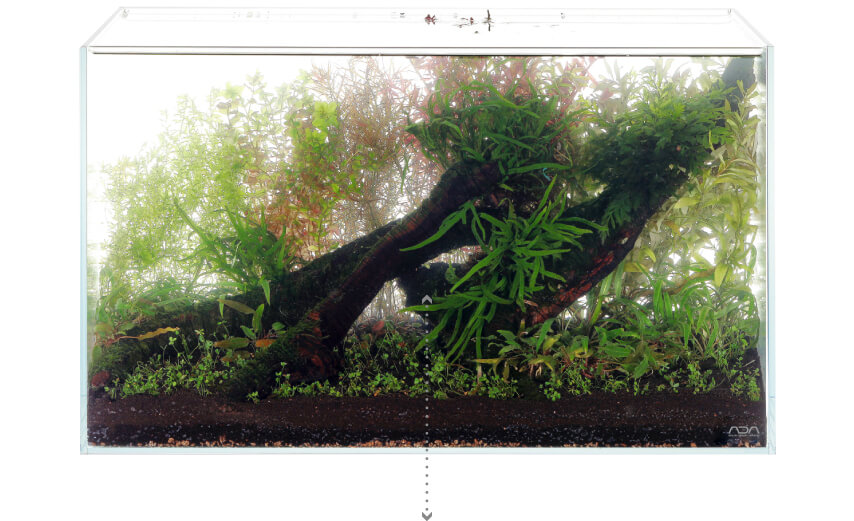 Chlor Off
Removes toxic residual chlorine in tap water.
7
Installation of equipment
Once the equipment such as lighting system,
CO2 system and filter are installed,
the setup of the aquarium is completed.
Install the equipment necessary for growing aquatic plants to complete the aquascape. The Nature Aquarium Goods offer a wide range of equipment that employ all the know-how of ADA.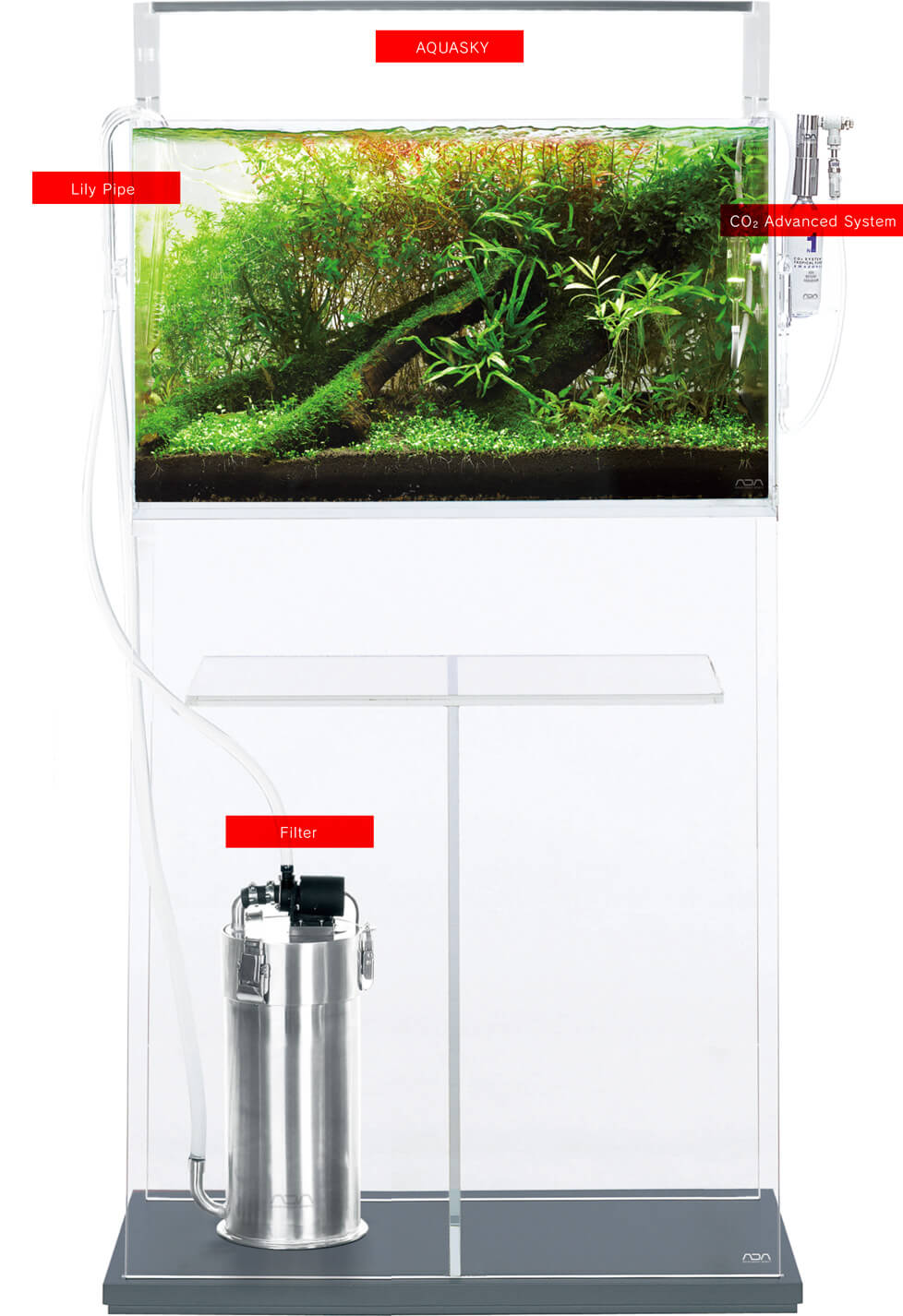 "Light" and "CO2" are essential for thriving aquatic plants and more natural aquascape.
Aquatic plants grow using photosynthesis. "Light" and "CO2" are essential for plants to perform photosynthesis.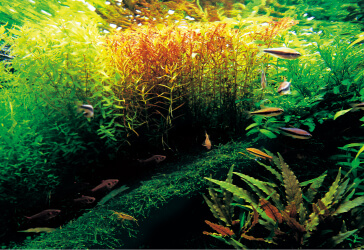 LIGHTING SYSTEM
"Light intensity" and "light quality" are requirements for lighting systems. Aquatic plants will not grow well if the light intensity is insufficient. Quality of light is indicated by underwater light penetration and blue light penetrates further in water. ADA's lighting systems are excellent in both light intensity and quality. On top of it, they also feature an excellent stylish design.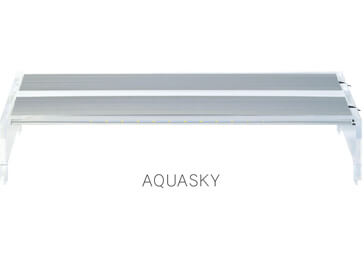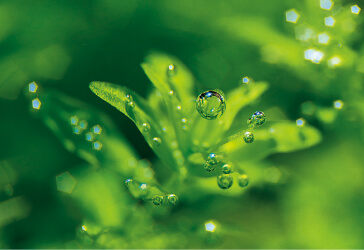 CO2 SYSTEM
Adequate CO2 supply to the aquarium promotes photosynthesis of aquatic plants and leads to a stable environment with abundant oxygen. To ensure more efficient CO2 supply, we need to know how we should do it. The point is the correct supply time and adjustment of CO2 supply amount. CO2 Advanced System is the optimal equipment for CO2 supply.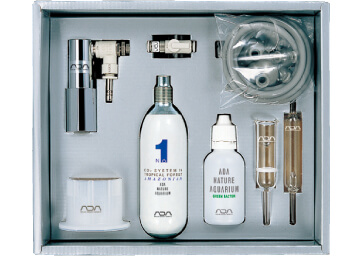 CO2 SYSTEM
"Filter" system is necessary to keep the aquarium water clean.
Aquarium water gets very dirty if it is left untreated. To keep the aquarium water clean, Nature Aquarium filters the water by three different steps of "physical filtration", "chemical filtration" and "biological filtration".

NA Carbon or Anthracite
+
Bio Cube

Physical filtration
Removes contaminants just like straining through a mesh.
Bio Rio
+
Bio Cube

Chemical filtration
Purifies water by using filter media that absorb visible impurities in water.
Bio Rio




Biological filtration
Purifies water with the help of bacteria in the filter media.



Do not add fish to the aquarium yet.
You would feel like adding fish to the aquarium immediately after the planting is done and the equipment have been installed. However, you should swallow the temptation and wait. One of the failures frequently observed among beginner aquarists is adding fish to a newly setup aquarium and ending up seeing it dead. During the first two to three weeks after the setup when the filter system (biological filtration) is not yet fully functioning, the aquarium water may contain ammonia and other substance which can harm the fish. It is advised to add fish to the aquarium only after the aquatic plants firmly take roots and grow lush and healthy. Conduct a water quality check using Pack Checker to make sure that the environment within the aquarium is good for fish.

8
Completion of Planting to
Initial Maintenance
Conduct daily water change and take action against
algae for one to two weeks after setup of aquarium.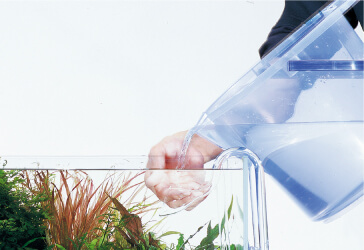 Ideal to conduct water change everyday
Water purification by beneficial bacteria cannot be expected in a newly setup aquarium. Therefore, it is necessary to change water to keep the aquarium water clean. Daily water change is crucial.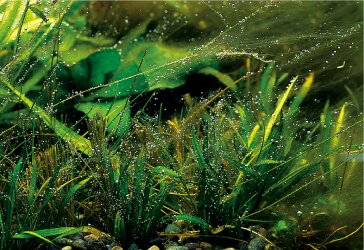 Removal of diatoms
The algae observed in the initial stage of the aquarium are mainly diatoms. They are soft and fluffy and in green or dark brown color. They grow on the surfaces of the aquarium glass walls and aquatic plant leaves. Ensure the early detection of diatoms and get rid of them biologically and manually.
Animals effective for algae removal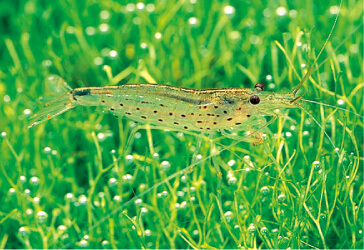 Cardina japonica
It is advisable to add 20-30 Cardina japonica to a 60cm aquarium. Diatoms will quickly disappear.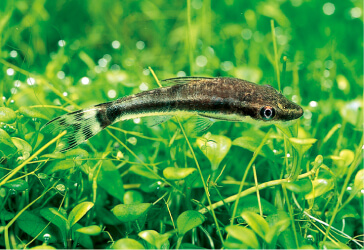 Otocinclus
This fish sucks glass and leaf surface and eat the algae. Add about 3-5 Otocinclus to a 60cm aquarium.

Water change procedures effective for algae removal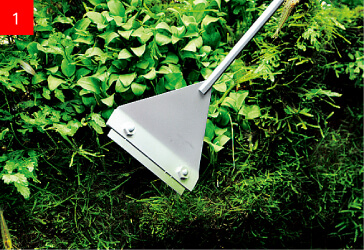 Scraping off of algae with Pro Razor
Firstly, scrape off algae on the glass, driftwood and stones with an appropriate tool.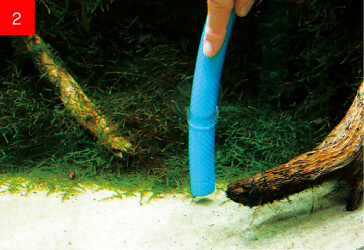 Suctioning out algae and dirt with a hose
Suction out with a hose the removed algae, filamentous green algae and accumulated dirt on the substrate surface.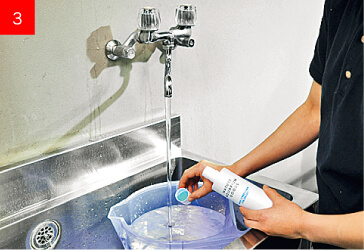 Removing residual chlorine
Remove harmful residual chlorine in tap water by adding Chlor-Off to the water before pouring it into the aquarium.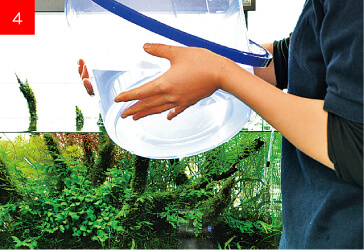 Pouring water into aquarium
Pour the water in the pail gently into the aquarium. Now, the water change process is completed.
Nutrients necessary in the initial stage of aquarium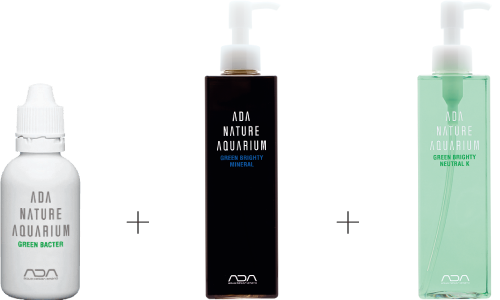 Green Bacter
Food for microorganisms
GREEN BRIGHTY MINERAL
Promotes production of
new leaves
GREEN BRIGHTY NEUTRAL K
Enhances leaf color and
promotes photosynthesis
of aquatic plants
9
Trimming for Completion of
Aquascape
Aquatic plants become denser by trimming.
Repeated trimming is important.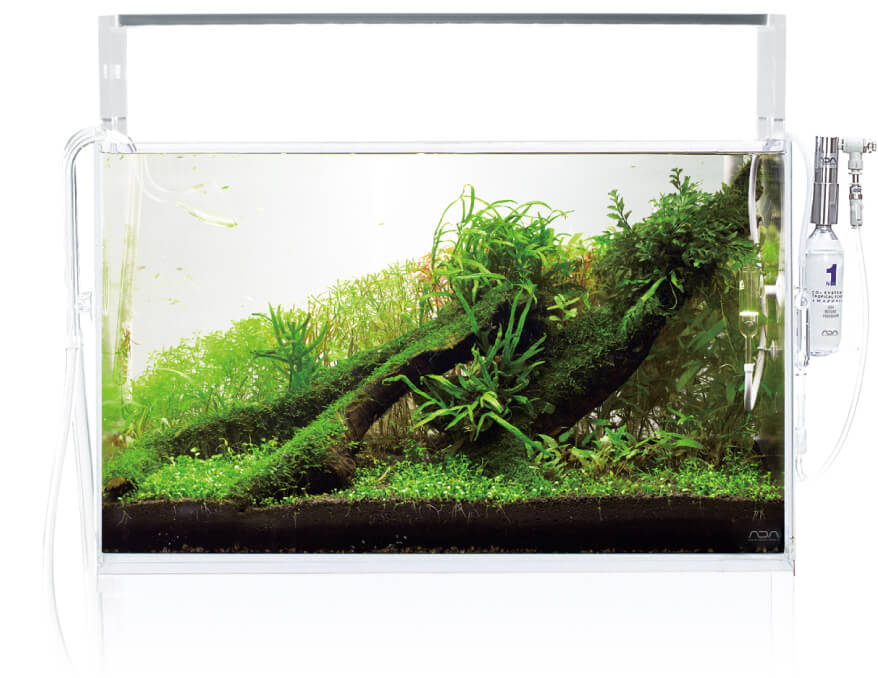 First trimming
1-2 weeks after setup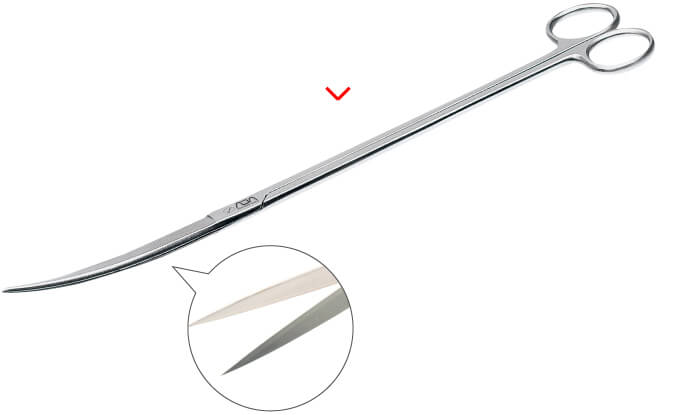 Trimming Scissors
(Curve type)
What makes these scissors special?
The value of scissors is determined by their blade edge. The trimming tool of Nature Aquarium Goods adopts double-layer high-hardness tungsten steel for its blade edge to ensure outstanding sharpness.
Willow moss taking root
Moss Cotton gradually biodegrades when the willow moss starts taking root to the driftwood.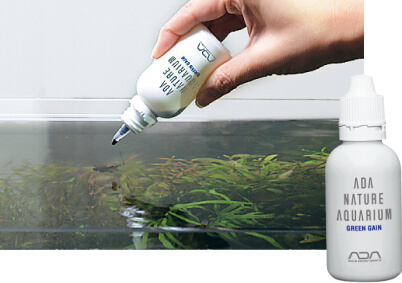 12 drops of Green Gain
Add about 12 drops of Green Gain after trimming. New leaves will start growing in about one week.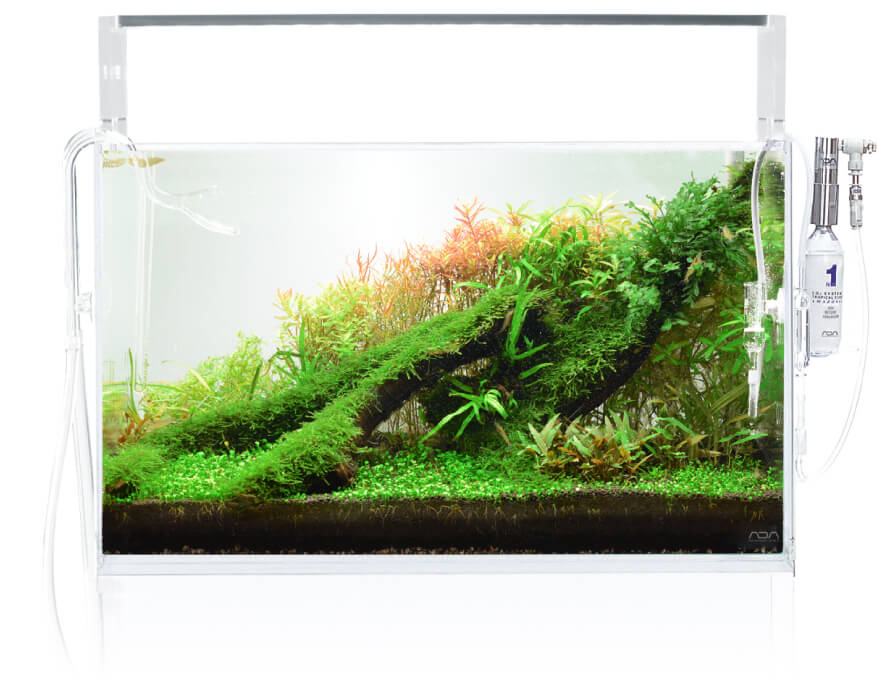 About 3-4 weeks after setup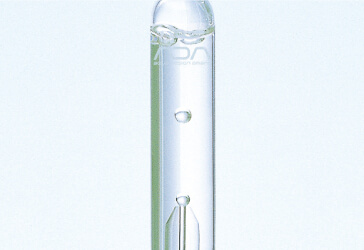 Adjustment of CO2 supply rate
Now that the aquatic plants are growing vigorously and the total volume of plants has increased, the CO2 supply is adjusted to "3 bubbles per second".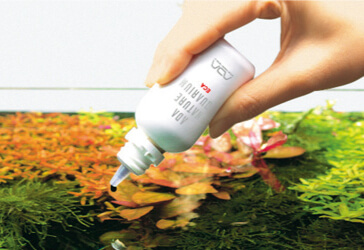 ECA for enhanced red color
The leaf color of aquatic plants can be enhanced by adding iron-rich ECA to the aquarium. It is effective especially for red aquatic plants.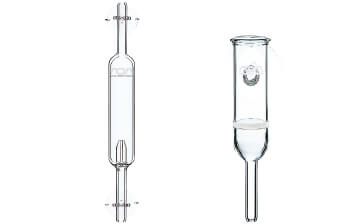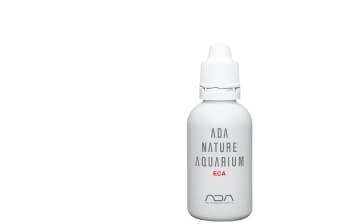 Repeat trimming to make aquatic plants grow denser.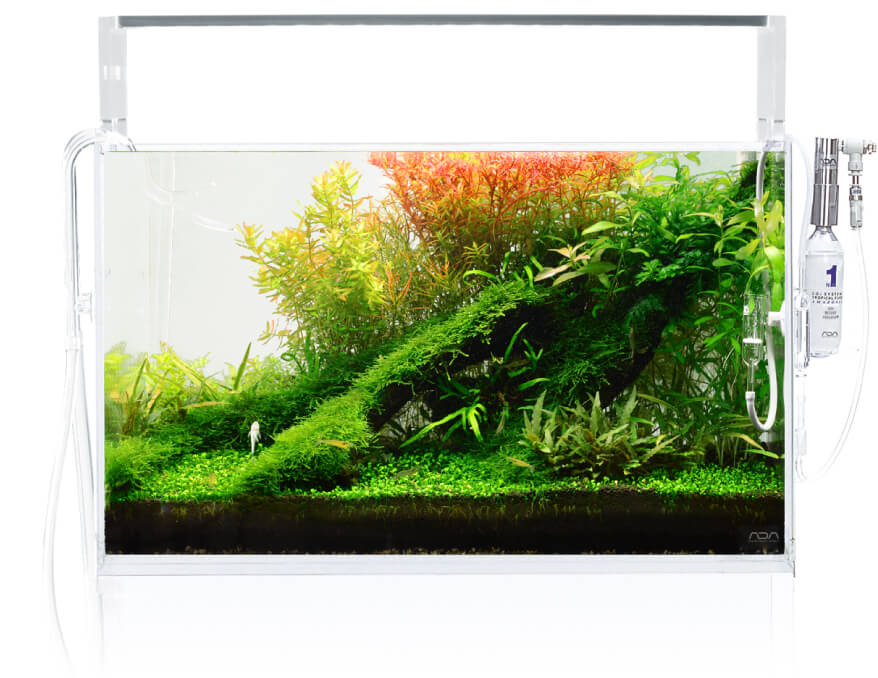 About 5-7 weeks after setup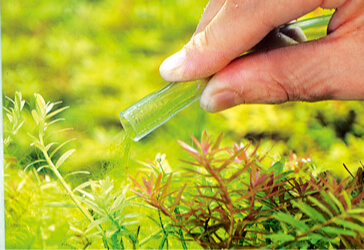 Suctioning out filamentous algae
Filamentous algae grow as stem plants become lush. They will multiply rapidly if left untreated. If you find algae in your tank, remove them quickly with a hose and brush.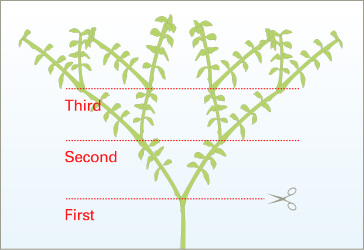 Initial trimming position should be low
Plant density increases by gradually shifting the trimming position higher up the plant. The initial trimming position should be the lower part of the plant.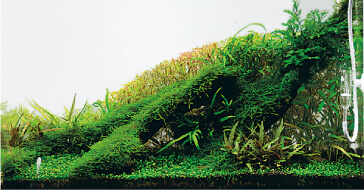 Second trimming
5 weeks from setup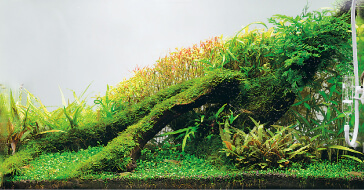 Third trimming
6 weeks from setup
10
Add Fish, the Main Figure of the
Aquascape, to Aquarium
Once aquatic plants have grown healthily and
water quality has become stable, it is finally
the time to add fish to the aquarium.
Before adding fish, measure the water quality with Pack Checker to be certain. If the Pack Checker does not detect any nitrite, you may add fish to the aquarium. Enjoy thinking what species of fish can match your original aquascape which is only one in the world. It would be a great pleasure to see the fish of your choice perfectly matches the aquascape. However, you should keep in mind that some species of fish cannot be introduced to Nature Aquarium which uses a lot of aquatic plants. Be careful not to add the fish which feed on aquatic plants.
Water quality check
Closely observe the aquarium condition before adding fish to the aquarium. Ammonia is usually detected in newly setup aquarium and as ammonia declines, nitrite will be detectable. Nitrite is harmful to aquatic life. It is advised to add fish to your aquarium only after you measure the nitrite level with Pack Checker. Make sure that no nitrite is detected in the aquarium water.
Adding fish to an aquarium
Do not simply open the plastic bag and put the fish in the tank together with the water in the bag. It may impose a shock on the fishes. Firstly, put the plastic bag containing the fish in the aquarium water and let it float unopened for about 15-30 minutes to allow the temperatures to adjust. Then, slowly add the aquarium water into the plastic bag to eliminate the difference in water quality. Now, it is ready for the fishes to be added into your aquarium.
For daily feeding
Leftover food caused by overfeeding can deteriorate the aquarium water quality. You should feed the fish with an amount that the fishes can consume in 10-30 seconds.
11
Completed Aquascape
(8 weeks after setup)
A layout based on a triangular composition,
consisting of a driftwood framework with
stem plants in the background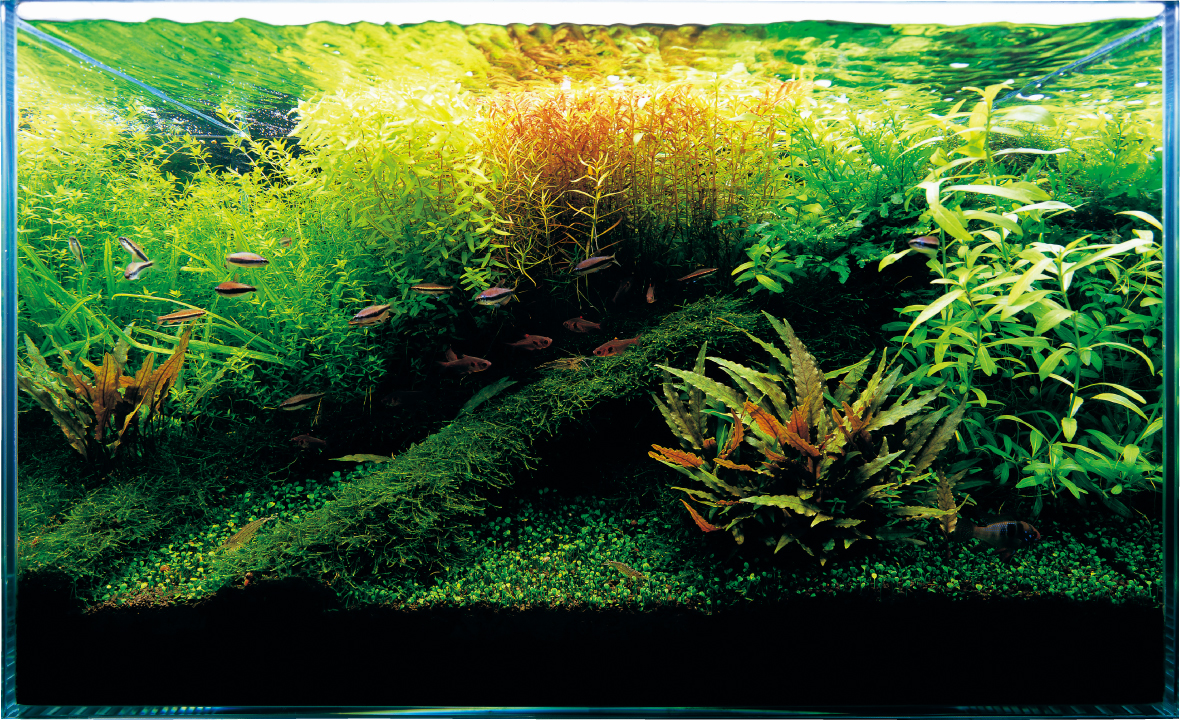 Water change: 1/3 water change once a week
Water quality: Water temperature 25℃ pH:6.8 TH:20mg/L
NATURE AQUARIUM GOODS DATA
LIQUID FERTILIZERS & ADDITIVES
AQUATIC PLANTS DATA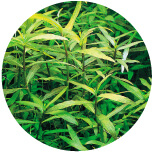 Hygrophila
polysperma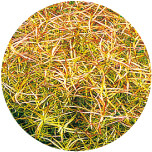 Ludwigia
arcuata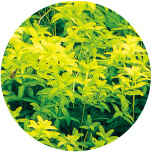 Hemianthus micranthemoides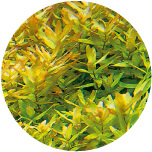 Rotala macrandra
(Green)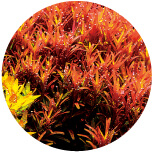 Rotala indica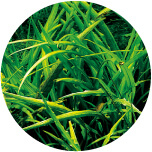 Cryptocoryne
albida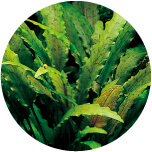 Cryptocoryne beckettii
var. petchii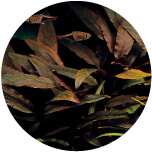 Cryptocoryne wendtii
(Brown)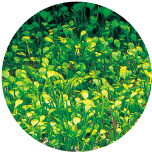 Marsilea
angustifolia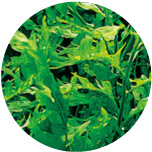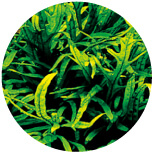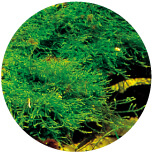 Bolbitis heudelotii          
Microsorum sp.
(Trident)     
Taxiphyllum barbieri
FISH SPECIES DATA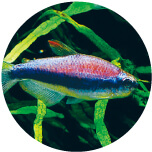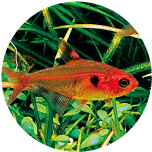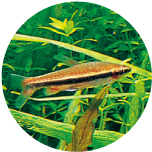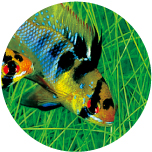 Inpaichthys kerri          Hyphessobrycon sweglesi      Nannostomus beckfordi    Mikrogeophagus ramirezi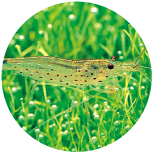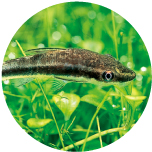 Cardina japonica                
Otocinclus
12
Daily Maintenance to Keep
a Beautiful Aquascape
The essence of Nature Aquarium is to maintain
the beautiful aquascape.
Nature aquarium is maintained in a beautiful condition by daily maintenance including water quality adjustment, nutrient supplementation, algae removal and trimming. With the passage of time, the aquascape will have a profound taste beyond human intentions. The ultimate goal we pursue is to create a "Glass no Naka no Daishizen (nature created in the glass)".
NA Goods Necessary for Maintenance of Aquascape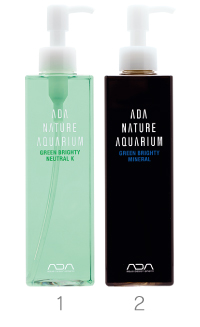 1.GREEN BRIGHTY NEUTRAL K
2.GREEN BRIGHTY MINERAL
Phase of plant growth (Up to 2 months after initial set-up)